Office Divider Systems - modern, quick and economic choice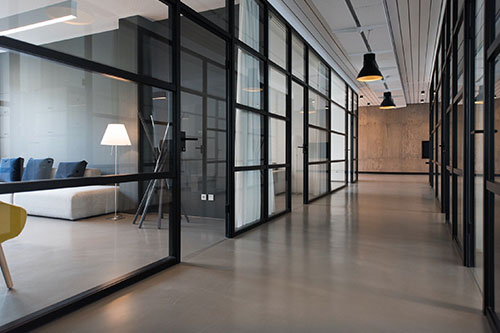 Pensa Office Divider systems are a wonderful system for the quick and practical preparation of special work compartments needed in offices and business centers. Pensa realizes projects with two different systems in Glass Office Divider and Aluminum Office Divider applications, each of which offers functional usage advantage.
The glass divider has a completely special laminated glass system from floor to ceiling, and the connection equipment of the system is provided by carriers and holders consisting of long-lasting, stainless aluminum profile. The glass used in the office divider system is specially produced by increasing the coefficient of fragility to the maximum and it doesn't harm human beings.
In the aluminum office divider system, the main carriers and closures to the desired height are carried out with completely non-corrosive specially painted aluminum profiles and plates. Glass system application is made for angle of vision and more natural illumination in the desired areas.
Modern appearance and more brightness in Office Divider Systems
Business centers that prefer Pensa office divider systems combine their personal workrooms with the brightness of the glass divider and the bright and elegant appearance of aluminum. The office divider is the fastest and most comfortable system developed to transform very large open work areas into personal work and meeting rooms. They work pleasantly in a spacious environment in their specially insulated rooms that face the entire office without non-covered view angle.
In the glass divider system, where glass is heavily used, the walls become much brighter with the natural light transmittance inside. We don't need electric lighting thanks to this natural brightness in most of the working day. It saves electricity costs.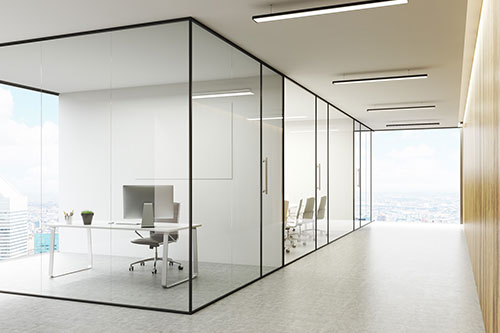 Glass dividers put an end to construction and maintenance
The glass divider system is prepared as pre-produced in Pensa factory facilities by designing the divider areas that have been measured before. The pre-manufactured divider equipment is applied as soon as it's parts are moved to the project area. Installation is completed in a short time on the existing flat floor without any work such as measuring with ready parts, destruction etc. During the installation, assembly is carried out by screwing the floor coverings (parquet, tiles, etc.), ceiling and vertical columns in a very practical way without damaging. The elegance and comfort of the office divider in a modern appearance can be felt in the working environment within minutes.
There is no need for construction applications such as plaster, paint and coating in the modern office divider, which is applied with the special painted glossy face of aluminum and the natural appearance of glass. Glass divider system gains on construction costs with maximum savings. However, with the mortar and other chemicals used in classical brick and other construction divider systems, the existing space turns into a construction site. Dust covers everywhere. Applications such as walling, plaster, and paint take days with individual labor. Moreover, darkness without natural light covers the working environment.
High heat and sound insulation in Office Divider Systems
Pensa office divider system adds comfort to working spaces with its light transmittance while creating a calm work environment with the heat and sound insulation it offers. Specially developed for the glass divider system, the glass does not allow heat and sound transmission with its high insulation. By facilitating air conditioning, it provides great savings in energy costs by operating coolers such as air conditioners and fans less. It preserves coolness for a long time with its insulation superiority even during power outage. On the other hand, the special aluminum profile used in the office divider system and the special gaskets used in the junction points between the holders and glass show the same performance in insulation. It doesn't give a passage to the heat and sound. Thanks to this insulation, while we can see the liveliness outside to the detail of a smile, our voice doesn't leave the room. In terms of sound, the best method to protect privacy is glass divider systems.
If you are looking for an expert solution partner for the areas you want to divide in your office, Pensa is with you. Please contact us and we'll prepare your project, present to you. You can also check the most suitable glass divider wall prices per square-meter compared to other systems, and turn your working environment into a comfortable space.